If you're feeling a case of wanderlust and want some great ideas for trips outdoors this guide has you covered. From canoeing down the river to basic climbing, there's a fun activity to suit each person's taste and get us all out of the house and enjoying the splendor of the wilderness.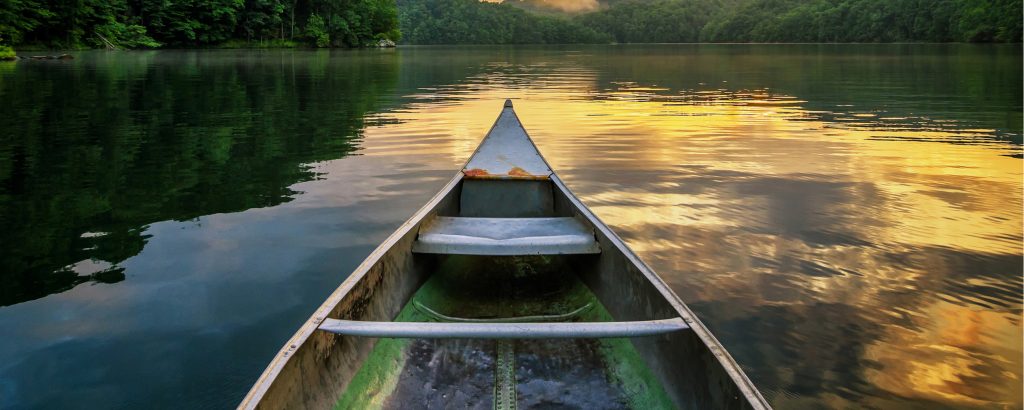 Canoeing
Canoeing is a wonderful idea for a trip in the great outdoors, whether you want something fairly short and easy or a multi-day excursion with camping and portage (carrying the canoe overland to the next water source).
Whether you are doing a large or small trip, you'll want to do some pre-planning and prep and bring all the right gear. First, of course, choose your destination whether it's the Brule River in Wisconsin or Harrison River in British Columbia, Canada or the lakes of Minnesota. The possibilities are endless.
Read some reviews and make sure you will be able to handle the difficulty. Consider hiring a guide if you want to canoe on a river or lake which looks challenging but also inspires you. In general canoeing is more fun and safer with at least two people, but a solo trip is always a possibility as well – you just need to switch up your paddling on either side.
Make sure to pack light but bring everything you need from a tent, lifejackets and cooking utensils to a fire starter, spare clothes, sleeping bags and raincoats.
Go to an outdoor store and get stocked up on everything you need. And don't forget to download a map of your trip route for offline use – and bring a paper map – because cell phone signals are likely to be absent in canoeing areas. Also consider bringing a satellite phone if you're going on a long or remote trip!
Make sure to wear reliable footwear and bring lots of plastic bags to dry out clothes that get wet. Then relax and enjoy the trip!¹
Climbing
Want to do some camping on top of a rock face or small mountain? Consider a climbing trip. Even if you're just starting out there are a number of fairly easy options that can be an exhilarating start for amateur climbers.
While you can start out with doing some practice in a climbing gym, you don't need to be an expert to go tackle a real little mountain. This can include bouldering, top roping, sport (lead) climbing and traditional climbing.
Consider hiring a guide if you're climbing for the first time and make sure to fully understand all the gear you will need from footwear, nuts, cams, belays and so forth. In sport climbing you will clip on to permanently bolted routes that are ready for climbers, whereas slightly more risky traditional climbing leaves you free to try new climbs with your equipment.
You can also try aid climbing where you attach platforms that you climb onto and are securely tied at all times. This is used in really steep places like Yosemite.
Always make sure to follow all safety guidelines when climbing and start with very easy and safe climbs. You will still get a strong sense of satisfaction and enjoy your time. It's also best to climb with a buddy so you're not alone and turn around if you feel in danger or begin to experience significant anxiety from the heights or the difficulty of the climb.²
Birdwatching
Birdwatching is a great activity that's been gaining in popularity. If you want to go on a birdwatching trip for the day you can bring a nice packed lunch, some binoculars, a good pair of hiking boots and maybe some bug spray depending on the time of year and your location.
Starting out in birdwatching you may want to head out for a day, and if you get very into it there are multi-day tours and even month-long tours organized in some places which allow you to see all sorts of species that are rarely seen.
You may want to hire a birdwatching specialist, but if you just want to go out and see what chirping chaps you can find then take a bird identification book, a pair of binoculars and maybe a camera with a good zoom lens and have fun. You never know what you'll find out there.³
---
[1] http://canoeing.com/beginner/planning-a-canoe-trip/
[2] https://www.outsideonline.com/2062326/beginners-guide-rock-climbing
[3] https://www.blueskywildlife.com/bird-watching-holidays-for-beginners/