With so many choices out there, it can be hard to pick a new smartphone. How do you find the perfect one for your needs without breaking the bank? Fortunately, there are several great and affordable cell phones for sale that can easily be found with a bit of research.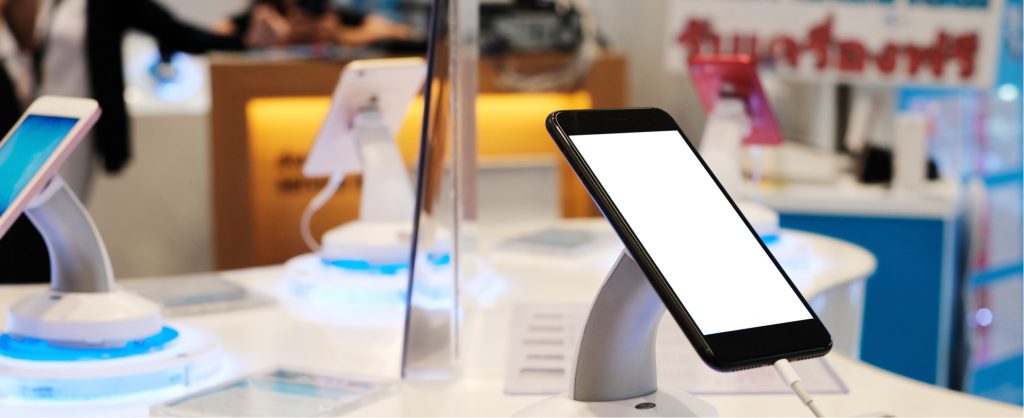 Here's a guide to many of the best affordable new cell phones to look out for this year.
Moto G Fast
The Moto G Fast is one of the best smartphones on the market, with top-notch performance, high-quality display and a very low starting price of only $200. The phone is fast and dependable, running on 3GB of RAM and a perfectly decent Snapdragon 665 processor. Even better, the 1560 x 720 high-definition screen and 4,000 mAh battery as well as excellent cameras make this a versatile smartphone that you can use for everything you need.
It charges on a USB type C cable so you don't have to worry about the cable being turned the right way and even though it starts with 32GB inbuilt storage you can put in a micro SD card to increase the memory to much higher amounts. The Moto G Fast isn't perfect, but it's definitely a great buy at this price.¹
iPhone 12
The recently-released iPhone 12 is an outstanding addition to Apples line of smartphones, with a powerful processor, world-class camera that works well even in low light, crystal clear OLED screen and 5G. The starting price of $829 is decent as well and this stylish, high-functioning phone is already getting top reviews from industry experts and users. The starting 64GB of storage can also be upgraded.
The iPhone 12's A14 Bionic chip makes it the fastest phone currently on the market, while the 5G support makes it the best way to get online from your mobile at lightning speed, with the phone getting 10.4 to 14.9 megabytes per second on an average US 5G network.²
Realme X50 5G
Realme's X50 5G is the lowest-priced 5G phone, with a great 120 Hertz refresh-rate screen and high performance for everyday use and basic games. The camera is quite high-quality as well, even in low light. Considering its low starting price and overall quality level, the X50 5G is genuinely worth your time and runs on a Snapdragon 765G processor as well as a durable and long-lasting battery. This phone is definitely one to check out.³
Samsung Galaxy S20
Next up is the Samsung Galaxy S20, which is definitely one of the best phones out there. This high-quality phone has a superb 6.2 inch display with a 120Hz refresh rate and runs on a powerful Snapdragon 865 processor and strong 12GB of RAM. The operating system for the S20 is Android 10 and its battery is 4,000 mAh and should last around nine-and-a-half hours on a full charge.
The phone's smaller size and powerful performance make it both convenient and versatile, while it's top-notch 10 megapixel front cameras ensure your photos are always of the highest grade. This is a wonderful phone that is highly recommended and is worth your time to look into.⁴
Xiaomi Mi 9
Last but not least is the Xiaomi Mi 9, which is a high-performing smartphone at a very reasonable price. It runs on a Snapdragon 855 processor, has a 6.4 inch OLED screen and charges fast via wireless charging so you won't have to wait around hours every time the battery is low.
The phone isn't perfect – for example it's not water proof and the screen is flat – but it will get the job done for many people and the kind of value it offers at this price is incredible and makes it worth checking out.³
Buying a New Phone
Now that you've seen a number of great modern cell phones, it's time to start thinking about which specific phone to buy. Truthfully, while the phones listed in this article are a great starting point, there are many more excellent options out there.
Not only that, but everyone is different. Seniors may be looking for a simple phone that is easy to use. Gamers may be looking for a powerful phone that is great for intense gaming sessions. Others may be looking for phones primarily for work or for socializing. While most phones meet several of these criteria, there is no perfect phone for everyone.
Whatever the case, one of the best ways to start looking for a phone best suited to your individual needs is to look online. An online search can provide more detail into many of the top phones currently available. You'll be able to more extensively examine the features and functionality of each phone. It's also a great way to start comparing pricing and reviews. With just a little bit of further research, you should be able to easily find a great new phone suited to your individual tastes.





[1] https://www.digitaltrends.com/mobile/best-cheap-smartphones/
[2] https://www.cnet.com/news/iphone-12-review-apple-iphone-12-pro-5g-support-improved-cameras-redesign/
[3] https://www.trustedreviews.com/best/best-cheap-mobile-phones-3430364
[4] https://www.tomsguide.com/reviews/galaxy-s20