Salad has got to be one of the greatest inventions of human history. It's easy to make, delicious and good for you. However, not all salads were created equal. There's a lot more out there than your basic green salad. Here's a guide to five great salads everyone needs to try.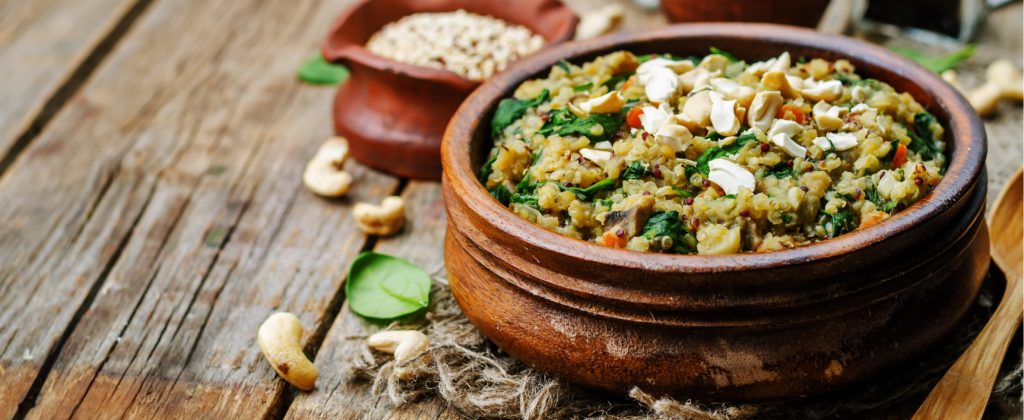 1. Avocado, Tomato and Cucumber Arugula Salad
If you're look for an adventurous salad that's quick to whip up and will be an outstanding accompaniment to any dinner or lunch then look no further because you've hit the jackpot. An avocado, tomato, cucumber and arugula salad? You heard right, and it's absolutely delicious – plus it's super easy to make.
All you have to do is chop up an avocado into pieces as well as a nice cucumber and then add diced Roma tomatoes – or another tomato variety if you prefer such as grape tomatoes.
You'll want to also slice up a red onion and put in some mixed arugula greens. Then take a lemon and squeeze it with some olive oil, and add pepper and salt. Then mix this all together in a salad bowl and add some crumbled bits of feta cheese on top.
Presto, you are ready to enjoy this incredible salad! It's amazing taste and variety will tantalize your tastebuds and it is surprisingly filling. Enjoy!¹
2. Asparagus Salad With Fried Egg and Prosciutto
Salad doesn't just mean lettuce with some ranch dressing. There's a whole world of salad possibilities out there just waiting to be discovered on the horizon and this one ranks up there with the very best discoveries.
Asparagus salad with a fried egg and slices of prosciutto tastes incredible and is a mouth-watering treat that is also filling and nutritious. It can be served as a side dish with dinner or lunch or even as its own meal. Here's how to make it.
First what you will need is an asparagus bunch, three tablespoons of olive oil, four eggs, half a cup of breadcrumbs, four slices of prosciutto, two tablespoons of balsamic vinegar and salt and black pepper.
To make this salad you boil a pot of water and add salt, add in the asparagus and cook for four minutes. Then drain, run cold water over it. Add your oil in a pan and fry the egg leaving the yolks still runny.
Divide up the asparagus into your servings and put a fried egg on each of the four servings and then sprinkle the breadcrumbs and strips of prosciutto on them with the olive oil, vinegar and salt and pepper on top. Delicious!²
3. Roasted Cauliflower and Mushroom Quinoa Salad
Want to mix a ton of healthy, succulent ingredients together into a salad for the record books? You're looking at one of the top contenders: roasted cauliflower and mushroom quinoa salad with goat's cheese and topped with a balsamic vinaigrette dressing.
The healthy whole grain quinoa salad – which is excellent heated up or cold – is made with delectable roasted cauliflower and will have you coming back for seconds before you're even done your first helping!
This takes about ten minutes to prepare and around 25 minutes to cook. For ingredients for one serving, you need a half-head of cauliflower cut up, eight ounces of mushrooms, a tablespoon of oil, half a teaspoon of thyme, a cup of quinoa and a quarter cup of walnuts along with a quarter cup of crumbled feta or goat cheese and a quarter cup of balsamic vinaigrette.
To make this you mix the cauliflower with the mushrooms, thyme, oil and salt and pepper and roast it at 400 degrees Fahrenheit until they brown slightly for around 20 minutes to half an hour. Boil and cook the quinoa for about 20 minutes as well then let sit. Then mix everything together and put the cheese on and you are ready to enjoy!³
---
[1] https://therecipecritic.com/avocado-tomato-cucumber-arugula-salad/
[2] https://www.eatthis.com/asparagus-salad-fried-egg-prosciutto-recipe/
[3] https://www.closetcooking.com/roasted-cauliflower-and-mushroom-quinoa/