Think about a delicious cookie melting in your mouth. Sounds pretty incredible, right? You can always pop out to the store and buy some, but baking your own cookies is another option that's faster and easier than you think. Here are three mouth-watering cookie recipes that will turn you into a cookie monster.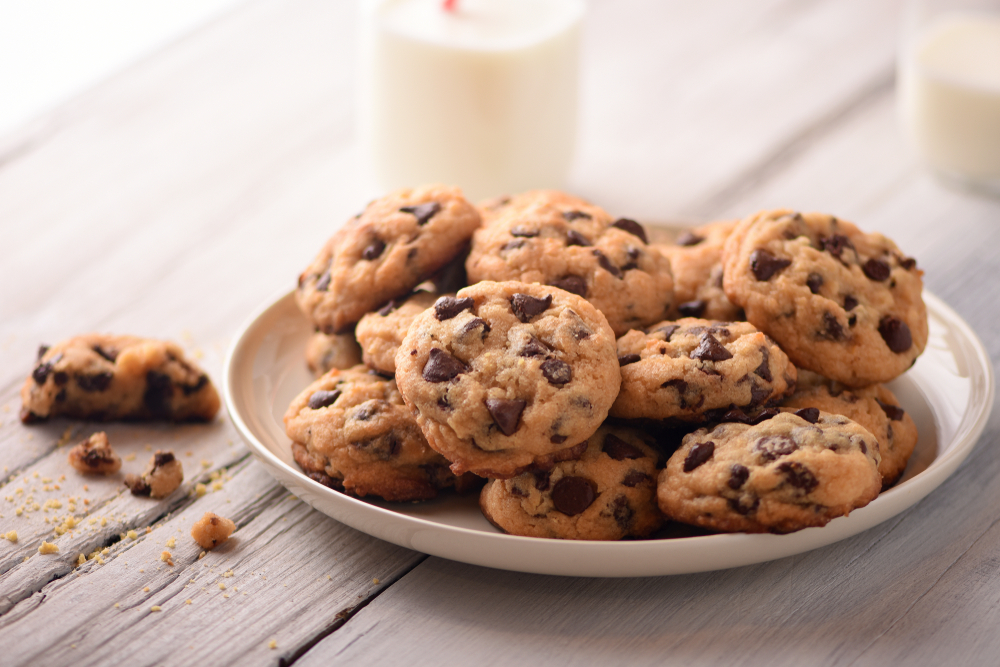 1. Soft Gingerbread Tiles With Rum Butter Glaze
This one sounds delicious and it is. To make a dozen of these you will need 85g of unsalted butter, two tablespoons of dark brown sugar, quarter-cup of molasses, a large egg yolk, 235g of flour, one tablespoon of cocoa powder, half a teaspoon of baking soda, one teaspoon of salt, and a quarter teaspoon of fresh ground pepper.
For the rum butter glaze you'll need two-thirds of a cup of confectioners' sugar, one-eighth of a teaspoon of ground cinnamon, one tablespoon of unsalted butter, one tablespoon of dark rum and one tablespoon of warm water.
To make these crazy good cookies just put butter, sugar and molasses in an electric mixer and whip them up then add the egg yolk. In another bowl combine the flour, cocoa powder, ginger, baking soda, cinnamon, salt and pepper.
Then add these all together and mix gently. Then knead with your hands on a flours-sprinkled surface and get it all nice and combined into a delicious doughy goodness. Use a cookie cutter to cut out the tiles. Preheat oven to 375 degrees and cook for 10 minutes.
While the cookies are on their journey to completion you can make the rum butter glaze by mixing the sugar, cinnamon, melted butter, rum and water in a bowl until it forms a smooth paste. Once the cookies are done let them cool and then spread this glaze on with a pastry brush. Enjoy!¹
2. Old Fashioned Peanut Butter Cookies
These classic cookies are easy to make and will keep you snacking in satisfaction.
To make them you will need a cup of shortening, a cup of peanut butter (extra crunchy or smooth depending on your desires), a cup of confectioners' sugar, a cup of brown sugar, three eggs, three cups of flour, two teaspoons of baking soda and one-quarter teaspoon of salt.
All you need to do is mix together the shortening, peanut butter and both cups of sugar for about five minutes until it's nice and whipped up, then add each individual egg and beat it into the mix. Now add the rest of the ingredients and knead firmly.
Remove the dough make small balls lining the baking tray with them. Bake for up to 15 minutes depending on how crispy you want these to end up.²
3. Classic Chocolate Chip
Even a brief list of cookie recipes would be incomplete without your classic chocolate chip recipe. This can be thought of as your basic template, so you can always start with it and experiment further on other kinds of more advanced cookies as well.
To make them you need a cup of butter, two cups of sugar, two eggs, two teaspoons of vanilla extract, one teaspoon of baking soda, two teaspoons of warm water, half a teaspoon of salt, three cups of flour, two cups of chocolate chips, one cup of chopped walnuts.
After mixing all the ingredients starting with beating in the eggs, you will want the oven preheated to 350 degrees. Start the preheating early as it can take awhile. Cook the cookies for ten minutes until they're nice and golden brown and then remove and let sit.
For some extra variety try macadamia nuts instead of walnuts and white chocolate slabs instead of chocolate chips.³
---
[1] https://www.epicurious.com/recipes/food/views/soft-gingerbread-tiles-with-rum-butter-glaze
[2] https://www.tasteofhome.com/recipes/old-fashioned-peanut-butter-cookies/
[3] https://www.allrecipes.com/recipe/10813/best-chocolate-chip-cookies/